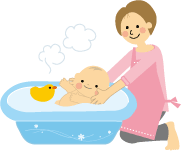 In view of the corona epidemic this winter, we will refrain from visiting support for families with poor physical condition until the end of March 3rd year of Reiwa.
From April onward, we will consider the situation during March.
We apologize for the inconvenience, but thank you for your understanding.
Thank you.
Because it's a nurse
Supports the whole family.
Childcare, housework, and nursing.
Counseling on childcare and health.
Rest assured in case of emergency.